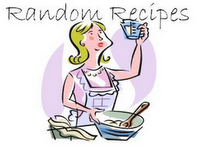 Today's Random Recipe Selection is to post your favorite appetizer and/or drink....hmmmmm What would the Happy Baker choose?
Drinks:
Spiked Watermelon Lemonade
recipe from "Cheap and Easy Cookbook"
makes 4 servings
4 cups lemonade, fresh squeezed or from a carton, or from concentrate
2 cups cubed watermelon
1 cup vodka or flavored vodka ie., raspberry, vanilla, citrus
a few sprigs of mint
Pour lemonade into pitcher. Mash watermelon and strain. Add to lemonade and stir. Add vodka, pour into tall glasses over ice. Garnish with mint.
*Use one cup of your favorite berries instead of watermelon
Rainbow Pepper Appetizers
tasteofhome.com
Ingredients:
1/2 each medium green, sweet red, yellow and orange peppers
1 cup (4 ounces) shredded Monterey Jack cheese
2 tablespoons chopped ripe olives
1/4 teaspoon crushed red pepper flakes, optional
Directions:
Cut each pepper half into nine pieces. Place skin side down in an ungreased ovenproof skillet; sprinkle with cheese, olives and pepper flakes if desired. Broil 3-4 in. from the heat for 5-7 minutes or until peppers are crisp-tender and cheese is melted. Yield: 3 dozen.
YUMMY! Great topic choice! Thanks Pam for hosting Random Recipes. Please visit her blog
HERE
for more entries or just to read her fabulous blog!
*******************Also, Thanks to everyone you commented on my previous post (and those that emailed). We are doing better. Several of you asked if the company or security company would reimburse us. No, the company has a policy that they are not responsible for anything happening to your personal belongings in the parking lots. Is this a load or what? Why have security officers then? Oh well, we have moved on. What else is there to do?? hahahaha Hope you are having a great day!